11 Steps to Get Your Business into Shopping Malls
First Published: 8 Jan 2019
Last Updated: 27 Mar 2021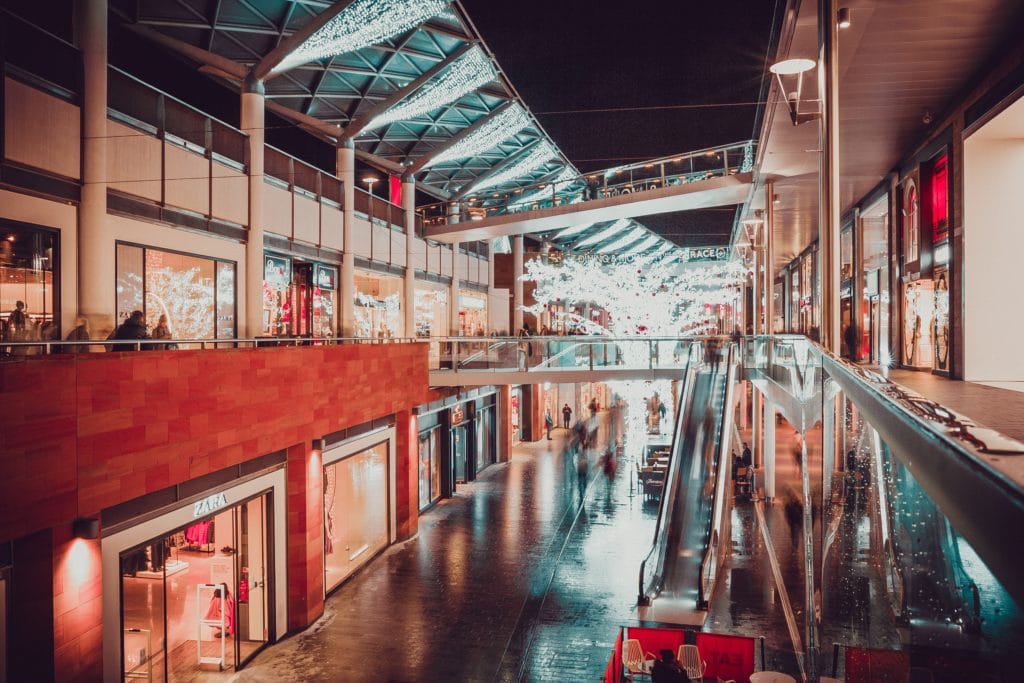 We have created a unique team with dedicated resources in helping business owners like yourself to have a strong advantage against the market while building a stable foundation for your business to grow upon.
We know we do – and so we have placed together a comprehensive video summary of what the steps are to get your business into malls!
#1 It All Starts with Your Idea
The most important part of any business starts with an idea. An idea that is close to your heart and something that you truly believe in. The drive for which your business is built upon will resonate with your customers when they see you running your business.
This idea can come from anywhere. It may be a hobby, a passed down tradition or even technology to change the future. There are tons of ideas out there that may be the one for you. If you want to own your own business but are struggling to come up with an idea, may we suggest taking a look at possible franchisees that are tremendously successful overseas and bringing them into the Singapore market?
Alternatively, if you are looking to build upon your existing business, why not explore SCAMPER, a design thinking exercise on your business, and find relevant business ideas that would synergize with your current business, bringing about greater market share and revenue to you!
Click here for more resources on: Great Business Concepts and Ideas to Start in a Mall.
#2 Putting it on Paper into a Business Plan
Great! Now that you have an idea for your business, we need to create a business plan or a proposal for the malls. View your proposal as the executive summary of your business. What is your big idea? Grab the attention of the malls by explaining your unique concept, miles apart from their existing tenants.
The malls would want to know:
What it would look like besides all the other businesses;
The different types of offering in terms of products (food) your business will have;
What plans the business has in place stay open during the mall's opening hours;
How the business will be bringing in customers of their own; and,
What technical requirements the business has in terms of power and size.
Click here for more resource on: How to Create Your Business Plan To Get Accepted into Malls.
#3 Engaging a team of Real Estate Professionals
You have done your personal preparation, perhaps reached out to business consultants you know, family and friends for their advice and insight into your business idea. But now, you are ready to engage a real estate professional to represent your interest into the perfect space.
At MallSpacesAsia, we firmly believe in the sharing of knowledge and expertise. So rest assured when working with us, you are not just working with property professionals and their close extensive network with more than 100 malls, but professionals consisting of business consultants, branding consultants, interior designers, and F&B owners.
Our Real Estate Professionals will take you through every step and serve you exclusively along your journey in finding your perfect space and beyond!
Click here for more resources on: 11 Things to Look Out for when Engaging Real Estate Professionals for your Search for Spaces in Malls.
#4 Focus in on your Target Audience
After you have your idea, a business plan and have made contact with our Pro, we will help analyze your business strategies and define your target audience together with you.
Being clear about your target audience is akin to having a goal for your business. While the idea behind your product or service offering may be the difference between a Porsche and a Kia, identifying and acquiring the right target audience is the difference between a full tank of petrol and one running on two liters.
Our Pros have been trained by our team of business consultants in identifying strengths and threats to businesses along with identifying key targets and strategies for a multitude of businesses.
Click here for more resources on: Why Your Target Audience will Make or Break your Business in Malls
#5 Shortlisting Locations with your Professional
Now it's time to set your sights on a location. With their extensive network of contacts and relationships with malls, our Pros have access to the latest data analytics and surveys carried out in the industry to identify and shortlist the most suitable location based upon your requirements.
The perfect location for all business does not exist.
However, the perfect location for your business does. Our Pros take into account the type of business you are running, your target audience, type of crowd you prefer, your long-term business objectives, eCommerce enabled, the strength of your branding, and more…
#6 Location Sourcing by your Professional
Having gathered all the information and shortlisted locations, your Pros will start a conversation with the relevant leasing Cluster Managers on your concept and all the unique aspects of your business.
Cluster managers are responsible for most or all malls under their group. Thus, by talking to the cluster managers, we will essentially be talking to all malls under their group at once, increasing our efficiency and effectiveness in the process.
Our Pros will usually hear back from the cluster managers within the week and be asked to officially present the concept for each location directly to the mall. This is where your business plan comes into play as an important and crucial document in the process.
We understand that malls are being run as businesses, often hedge their risks as well, and concepts that are accepted by malls are usually those that do not pose a financial risk to the malls as well. Malls have their own business and financial consultants who will review your numbers, this way, the mall is able to validate your business viability in the long run.
The objective of the concept presentation is to gather feedback, secure a buy-in and acceptance around your concept and business plan from the mall. Remember, malls are a business themselves and succeed by having successful businesses in their malls.
#8 Unit Proposal by the Mall
Good news! The mall and their team have thoroughly enjoyed what they heard and saw and have accepted your concept. Moving forward, the leasing manager from the mall will make contact with you and your Pro, proposing a location for your consideration.
Keep in mind that up till this point, you have incurred zero fees from! Because at MallSpacesAsia, we believe bringing you the best service and allow you to explore all your options without worrying about any charges or billable hours. Moving forward, your Pro will inform you with more details of the proposed location.
Your Pro will, after being proposed a location for your consideration, arrange an on-site viewing of the location with the leasing manager. The objective of this viewing is to address any concerns about the location and analyze the space from your business perspective.
It is in our best interest to have your best interest at heart. As such, your Pro will advise you of both the strengths and potential pitfalls of each location you view. Do not hesitate to ask any questions or voice out your concerns to your Pro.
Click here for more resources on: 10 Things to Look Out for when Viewing Spaces in Malls
#10 Offer to Lease: Presenting Your Offer
You have made it to your perfect space! You are happy and excited to start your business in your new unit. Now it's time to have your Pro prepare an official Offer to Lease on your behalf to be sent to the mall.
If you are unsure about usual mall rental charges, take a look at our calculator and the article that goes along with it. If you are still unsure after reading the article and trying out the calculator, be sure to ask your Pro for assistance.
Welcome to the last step of getting your business into a mall, the Tenancy Agreement. Once your Offer to Lease is accepted by the mall, you and your Pro will receive an official reply. The mall will then proceed to prepare the Tenancy Agreement and the payments process shall begin.
Only at this point in time will payment collected by your Pro for their service rendered to you. For more information on our fee policy, please visit our zero fee policy page.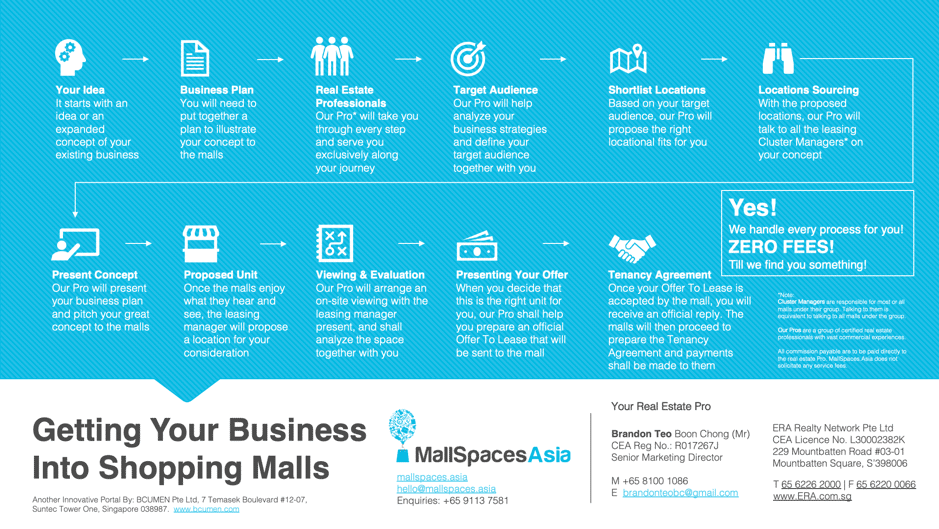 #12 Bonus: Your Journey Begins
Congratulations for making it through the journey of getting your business into a mall! Now you enter the next phase of your business, setting everything up, advertising and reaching out to potential customers (that you have targeted previously). Reaching out to interior designers, logistical fulfillment companies, branding firms, social media marketing consultancies and more!
Depending on your product offering, your requirements will vary greatly from your neighboring tenants. Remember, starting and growing a successful business isn't all luck. Sure, luck will help. But being prepared and ready for when your luck arrives will make the difference between thinking how to keep your business afloat and thinking where to open your eighth store!
Talking to a Professional who knows the Process
Have an idea? Looking to expand? Found a mall you want to enter? Let us know and we'll be pleased to help you! We have a team of real estate relationship managers, business consultants, interior design consultants, marketing consultants, fulfillment consultants, and much more to assist you in any queries you may have.
Getting into a mall requires a process and it starts with your concept. Got a great idea for the mall? Talk to us and we can make it happen for you by recommending suitable malls and spaces for your needs. We know the in and out of Malls and will be with you every step of the way!
At the end of the day, we have searched for and hand-picked the best team of professionals in the mall industry to provide the assistance you require on one or more component in your journey.
Don't hesitate to reach out to us and we will be in contact with you within the day.
Share this post with your team!